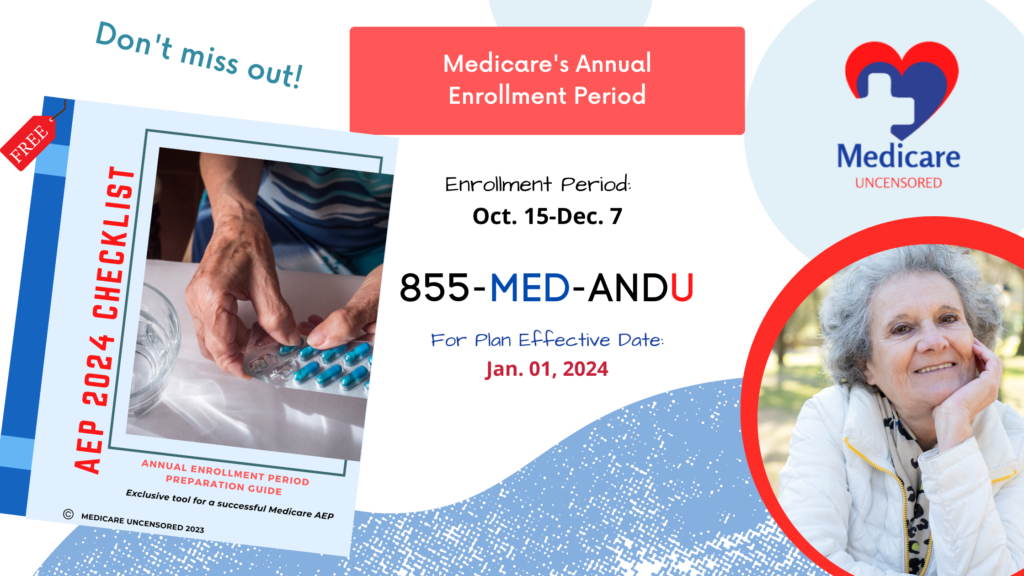 Get your FREE AEP 2023 Ready Checklist straight to your email.  Download, print, and on your way to a successful Medicare Annual Enrollment Period for the upcoming year of 2024.  
Take advantage of this year's Annual Enrollment Period, which runs from October 15 to December 7, 2023.  
Start 2024 saving money by making sure you are maximizing your benefits.
We do not offer every plan available in your area. Any information we provide is limited to those plans we do offer in your area. Please contact
Medicare.gov
 or 1–800– MEDICARE to get information on all of your options.
Medicare Uncensored & Partner Brokers websites are owned and operated by Medlock and Associates.  Medicare.medlockandassociates.com contains links to marketing content that may constitute a solicitation of insurance. Medicare Uncensored consists of licensed insurance brokers that may receive compensation if you make a purchase for insurance from any of the companies they are contracted with. Medicare Uncensored & Partner Brokers are not sponsored or affiliated by the U.S. government or the federal Medicare program. *By clicking and submitting consent on any of the ads, you are agreeing that Medicare Uncensored & any of its licensed Partner Brokers can contact you by your preferred method of contact with zero obligation to purchase insurance.